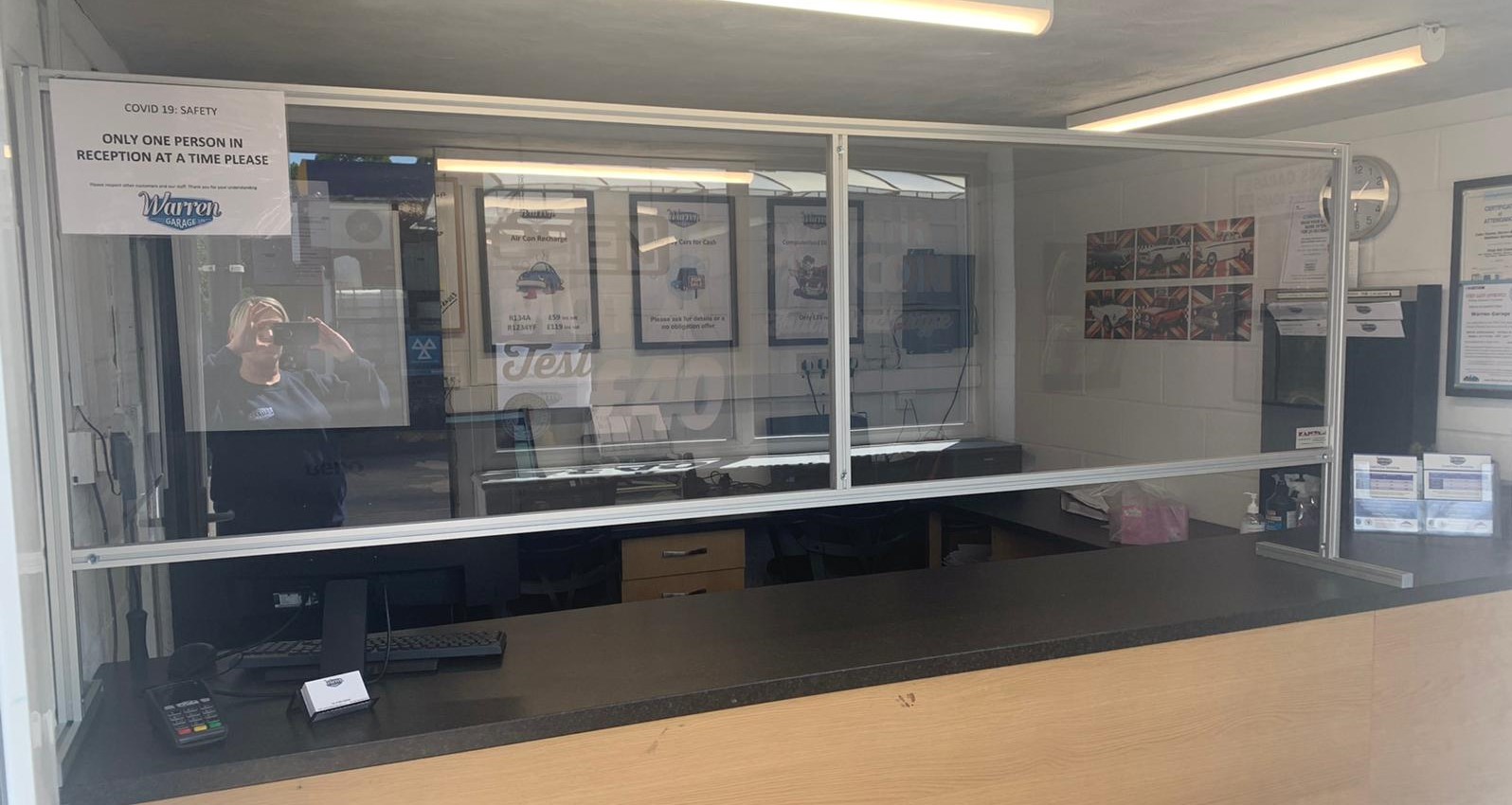 Car Garages have been deemed an essential service, so we remain open and here to help you.
The wellbeing of our staff and customers is of the upmost importance. We have therefore amended our procedures and taken extra measures to maintain health and hygiene within our garage.  
Increased Hygiene Measures whilst working on your vehicle
Mechanics will wear a new pair of nitrile gloves on every vehicle they work on and will discard after each job
Mechanics will wear a new pair of nitrile gloves at all times whilst driving customer vehicles
Disposable seat cover and floor mat will be used in all customer vehicles
Increased Hygiene Measures in our Reception Area
We have installed a large perspex screen which you can see in the picture above
Our staff will be wearing face coverings in our reception area and we ask that you do the same please
We have Alcohol Hand Gel available for customers and for our own staff 
Surfaces and door handles are being cleaned regularly throughout the day
You will be given an antibacterial wipe to clean your keys prior to handling them when you collect your car
Vehicle Drop Off
When dropping off your vehicle, you are welcome to simply leave your keys in our key safe, which is located next to our reception door.  If you would prefer to come into reception, you are welcome but we ask that only one person at a time comes inside please.  We have clear signs on the door, so everyone is aware of this request.    
Vehicle Collection
When your car is ready for collection, Emma will ring you and explain the work carried out.   You then have the choice to pay by card over the phone, or if you prefer to come in and pay, we will clean the card machine with antibacterial wipes, before you use it.  
When you arrive to collect your vehicle, if you prefer not to come in you are welcome to ring us and we will then put your keys in your car ready for you, (using gloves.)
We are not accepting cash at this time, we trust you appreciate the reasons for this.
Vehicle Delivery and Collection
We are offering free collection and delivery of cars for all essential workers, people over the age of 70.  If you would like us to collect your vehicle, please give us a call on 01252 835436  
Amendment to MOT Expiry Dates
The government's MOT extension has now ended. The six month extension ended on 1 August.